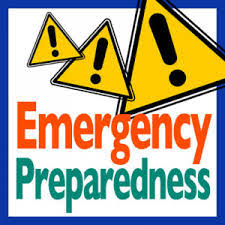 Emergency Preparedness For Renters
Whether you're in a 700 sq ft. apartment, or a two-story rental home, disasters can affect us all. From fires to floods to natural weather disasters, it's not just the home owner who is at risk when the unexpected happens. In the event of an emergency, it is important to be prepared even as a renter.
Emergency Kit
The first and easiest step to being prepared is to create an emergency kit. This kit should be kept in an easily accessible place in your home that all members of your family have access to. Your kit may vary depending on whether you live in a place prone to earthquakes, tornadoes, or hurricanes, but they all should have a few common items. It should contain things similar to the following:
Flashlight/lantern with extra batteries

First aid kit

Drinking water

Food – ready to eat

Copy of important documents & phone numbers including your property manager and/or landlord

Emergency cash

A go-bag to contain all items for each family member
If you live in an area with a high risk of devastating natural disasters, you may want to include more items necessary to be self-sufficient for three days. These kits can prove immensely helpful in any emergency from a simple power-outage to an earthquake.
Evacuation Plan
The next step is to have an evacuation plan. This is especially important if you live in an apartment building or a multi-story home. If you do live in apartment building, there should be an evacuation plan already in place that is posted in the common areas. Make sure you familiarize yourself and your family members with this plan so you know where to go to escape the building quickly. It you live in a house, draw up a sketch of your home and draw a route to the nearest exit points from every room so that young residents can know exactly where to go in case of an emergency. Also agree upon a family meeting area away from your home in case an evacuation becomes necessary.
Renters' Insurance
Finally, decide if renters' insurance is right for your family. Many management companies require it, but for those that don't, most renters forgo it. While your landlord or management company is responsible for structural repairs to your home in the event of an emergency, they are not responsible for your belongings. For less than $20 a month, you can receive coverage which can be a huge lifesaver in the event of a real disaster.
Thankfully, emergencies and natural disasters rarely occur. However, if you are fully prepared in the case that something does happen, it can make the fallout and road to recovery exponentially smoother and faster. Just taking a little time today to prepare can make all the difference tomorrow.